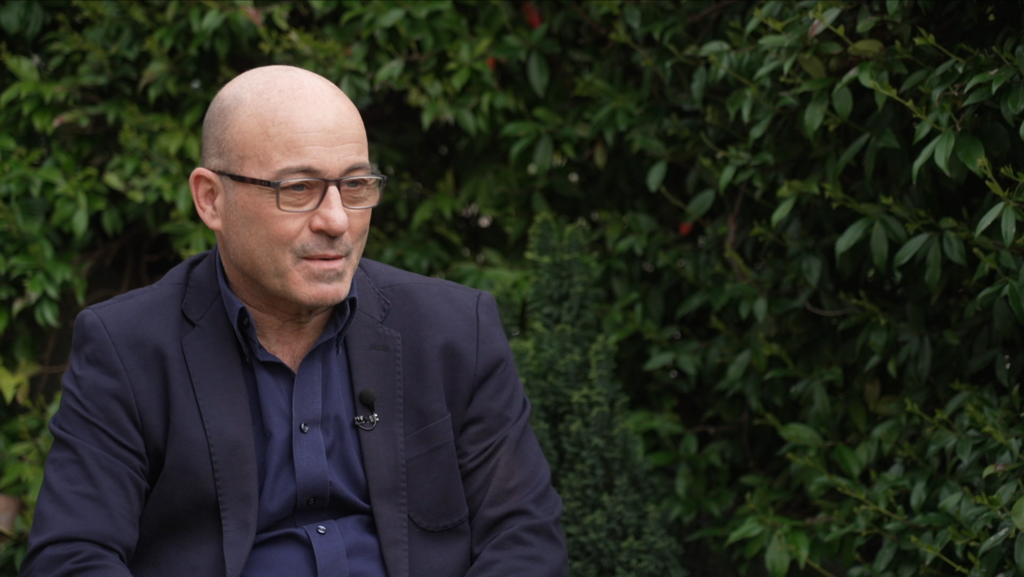 Alongside Roberto Cingolani, Minister for the Ecological Transition, we imagined what the world will be like in 2040 when his youngest son will be 30 years old. Cingolani helps us understand why we need to act now to put all the knowledge we have to good use. Are you ready to do your part to facilitate a transition that, by the very nature of the term, must be gradual?
Cristina: How will we transition from the world we have to the one we want? We came to Genoa to ask the Minister for Ecological Transition Roberto Cingolani, physicist, researcher and father of 3 children. Good morning Minister. In 2040 we'll be 10 years away from the 2050 target of zero emissions and your youngest son will be 30 years old – what will the world look like?
Minister Cingolani: If we'll have done a good job it could be much cleaner than it is now and above all, there should be much less carbon dioxide in the atmosphere and we'll probably start to limit and mitigate the effects of global warming. The problem is that we have to start tomorrow and install all the renewable energy we need, we have to reach 72% of renewable electricity by 2030, so 10 years before the date you mentioned and I have to say that it worries me. Paradoxically, the problem today is neither resources nor technology, nor companies that can install these large plants, especially in Italy where we have lots of know-how. Right now, the most limiting factor is the bureaucratic one. The chain of permits for the installation of photovoltaic, wind and renewable energy plants is so slow, we risk that during the 5-year duration of the National Recovery and Resilience Plan (PNRR), these permits will be issued too late. First of all, we need to simplify the regulatory and authorizational aspects because there is such urgency, we can no longer waste any
time.
Cristina: Let's imagine that world in 2040 for a moment longer.
Minister Cingolani: Smart mobility, cities on a human scale, greener. Hopefully we will have recovered some biodiversity, and above all, a greater awareness of tomorrow's adults, today's children.
Cristina: A question about fossil fuel subsidies is inevitable. Where are we and what do you think is the right destination?
Minister Cingolani: It's a very delicate subject, unfortunately, sustainability is a compromise between different demands, we must mitigate the damage we've done to the environment as soon as possible, but at the same time, we must allow people to live and work. Unfortunately this also depends on contingent situations, we are not coming out of a particularly prosperous and happy period. The subsidies must certainly be reduced as soon as possible, and if we can reduce them we can reinvest a part of these reductions in something that will help create new jobs, including the reconditioning of the transportation industry. It's a balancing act because if we ideologize the problem we harm workers, if we neglect the problem we harm the environment, so we all need to think about how to reorganize our habits and our lifestyles knowing that nothing is free.
Cristina: Thank you Minister.
Minister Cingolani: Thank you and good luck to everyone.
Cristina: Our country's green transition must fulfill all 17 Sustainable Development Goals. An eye on the present and an eye to the future!
On air June 12th, 2021