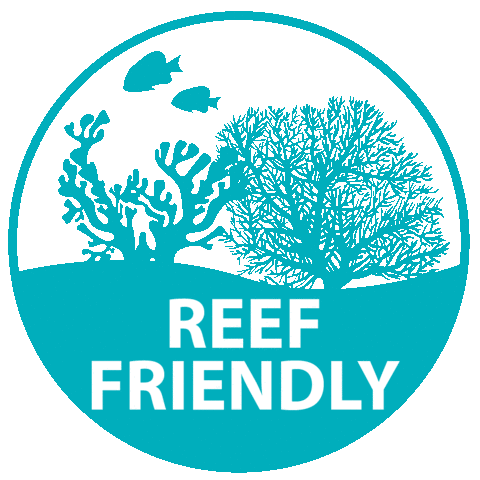 The sunscreen we use is accumulating in the oceans with dire consequences. It is estimated that an average of 10.000 tons of sunscreen washes off swimmers, scuba divers, and snorkelers, and even more sunscreen pollution damages coastal areas due to waste water that eventually flows into the seas.
Not only juvenile fish and invertebrates, but up to 10% of the world's coral reefs could be threatened by chemicals, specifically 4, found in common sunscreens, and even low concentrations are hazardous: one drop in 6.5 Olympic sized swimming pools!
These are the ones to look out for:
Oxybenzone (Benzophenone-3, BP-3) is found in more than 3500 sunscreen brands worldwide. It's a chemical filter that disrupts coral reproduction, causes bleaching, and damages its DNA.
Butylparaben, the most common preservative, also causes bleaching.
Octinoxate (Ethylhexyl methoxycinnamate) is another filtering agent proven to cause coral bleaching.
4-methylbenzylidene camphor (4MBC) is another chemical to avoid. It is allowed in Europe and Canada, not in USA or Japan.
The Haereticus Environmental Laboratory researches the effects of sunscreens and other personal care ingredients on coral reefs, other ecosystems and wildlife. The list of ingredients that they consider to be environmental pollutants includes:
Any form of microplastic sphere or beads.
Any nanoparticles like zinc oxide or titanium dioxide. (These are friendly ingredients when non-nano.)
Oxybenzone
Octinoxate
4-methylbenzylidene camphor
Octocrylene
Para-aminobenzoic acid (PABA)
Methylparaben
Ethylparaben
Propylparaben
Butylparaben
Benzylparaben
Triclosan
This is a certification to look for if you want to protect your skin and the marine ecosystems: Protect Land + Sea